Tijuana's booming industrial sector is a big part of, if not the reason for, the border city's exponential growth, with 92% of the industry comprised of manufacturing operations. The city's experience with this large sector dates back to more than 50 years and has created the ideal platform for aerospace, medical, electronic, power, and automotive operations (among others) to thrive.
Companies from all over the world have found a more viable and profitable solution in Tijuana, benefitting from its committed and qualified workforce, lower wages, abundant resources, as well as its direct connections to the international market.
Parque Industrial Pacifico's 7.5 MM sq. ft. extension is one of Tijuana's best labor submarkets, making it an attractive location for companies to settle in. 48% of the park's gross building area is currently occupied by American companies, while local companies occupy 15%. The rest is taken by the following nations who have found a promising home away from home: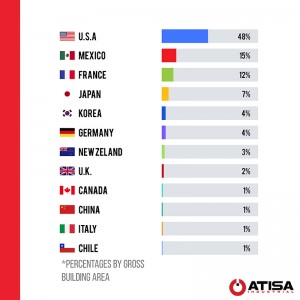 It is always Atisa's pleasure to help businesses find the ideal property to settle in and enjoy all the perks of investing in Tijuana, offering their clients an all-in-one service in a strategic location. Therefore, Parque Industrial Pacífico has witnessed the success of many, being a proud host of corporate leaders like SONY (which once had the largest North American television manufacturing operation), Panasonic, and Sanyo. Today, the park's community has welcomed world-renowned companies such as Sohnen, Legrand, Zodiac Aerospace, Encore, Sherwin Williams, Pepsi, Eaton, Enersys, Fisher & Paykel, Baxter, among many others, providing best in class buildings and a high-quality service to both international and local companies.
If you're looking to settle in Tijuana, Parque Industrial Pacífico is a smart and viable choice. For more information about our industrial park and/or available buildings, please contact us at info@atisa.com or call us at 1 (855) 512 4368.