Under Construction: Atisa Industrial's 2017-2019 Development Plan
---
Posted on by Rick Chatham Share on:
Parque Industrial Pacifico is one of Mexico's largest industrial parks, located in the thriving city of Tijuana. It is currently operating near full capacity, housing multiple international and local companies. Given its ideal expansion capabilities, 100 acres of available land to be exact, Atisa Industrial has decided it's time to enter the next stage of its history, which means undergoing a 2 million square foot development that will begin on the last quarter of 2017 and culminate by the end of 2019.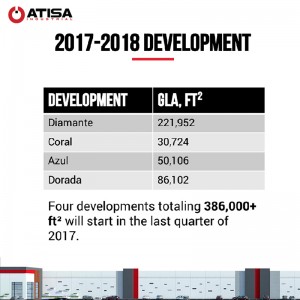 This vast expansion will take the form of 18 Class A buildings located mostly in Parque Industrial Pacifico. Atisa will deliver six developments in the last quarter of 2017 with a combined square footage of 546,000 and five more by the end of 2018. These eleven, top-of-the-line buildings give us a total of 965,000 ft² that will be added to our industrial portfolio by late December of the next year.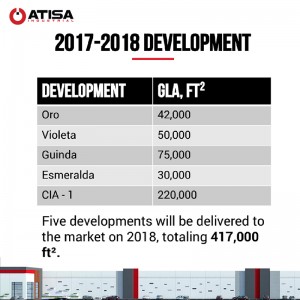 By 2019, we expect to culminate the last 2 buildings within the Atisa Industrial Center, a gated community in Parque Industrial Pacifico, as well as 3 buildings within the Tijuana Industrial Center, located less than 2 km away from the Toyota Manufacturing Facility and just 30 km away from the US border. With 2 additional buildings being added to Parque Industrial Pacifico's inventory, it brings us to a total of 18 buildings or a 2 MM total square footage for Atisa's 2017-2019 Development Plan.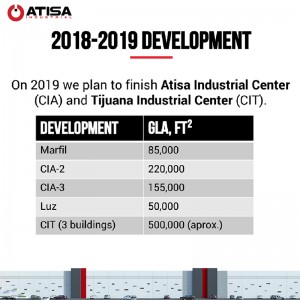 These brand-new facilities will, of course, be available for immediate sale or lease. If you're interested in receiving more information about our current or soon to be available buildings, don't hesitate to contact us at 1 (855) 512 4368 or info@atisa.com.
We will gladly provide all the details you need so you can settle in Tijuana and find a more profitable and viable manufacturing option for your company.